Assalamualaikum and hello everyone. How are your days? Lovely? Me? Splendid! With Eid Ul Fitr in the air, anything goes well! This year, my family celebrated Eid at Seremban on the first day of Eid. Having a great time although I was actually quite a shy girl and rarely talk to my cousins. (Ohemgee, I am so shy. Sorry for being so shy! ) But I can feel the love around the atmosphere when we, as a big family get close together and share stories. That's what Eid is meant for me. Else from celebrating our full month of fasting, we actually can see our long lost huge family. (LOL)

What is Eid al-FItr, actually ?

Eid al- Fitr is an important religious holiday celebrated by Muslims worldwide that marks the end of Ramadan, the Islamic holy month of fasting (sawm). (wikipedia) :)


When it comes to Eid Ul Fitr, kuih(s) are the one excite me the most. In Malaysia, it's a tradition to have Lemang or Nasi Impit and Rendang in the menu of our feast. Well, I think all in our mind is only about food and money(duit raya).
Lemang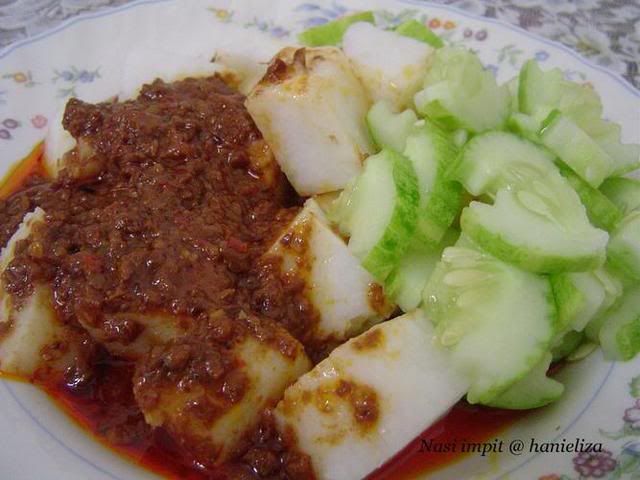 Nasi Impit & Kuah Kacang
When Eid comes, know what the children actually excited about?
MONEY.MONEY.MONEY
Well, I think that's all in their mind besides the food.
Here, (I don't know if anywhere besides Malaysia also keep this as a tradition) all the children are eligible to get money or duit raya. So to get many and many duit raya, children will visit(if they can) all the houses in the village. As a lazy adult I am, I always run and hid in the room to avoid welcoming them. Yup, I am not a good person when it comes to welcoming kids for 'beraya'. Please, don't follow my attitude. It's a horrible attitude. Horrible.
Some of what I got.
This year, I'm in grey Baju Kurung. My pick.
btw, this is my brother's feet. Not mine.
From my personal thought, this year is not so big for me because I'm so worried of the stock of homework.
But, I always love celebrating Eid even though I was at the hardest moment.
Complaining that and this, do you actually think that the Palestinian celebrates Eid this well? Sympathy for them!
:(
Everything I passed by McDonald or Starbucks. I always thought of this picture. How it tears me up.
Okay. That's all! There are still a lot of days to celebrate this Syawal. Don't be too sad but do keep in mind that if you can't celebrate Eid too well, there's peope that can't celebrate Eid. Wishing to all of you, Happy Eid Ul Fitr ! I want to apologise for all my wrongs.
Song Of The Day
Eidun Said by Zain Bikha
(sorry of my wrong grammar and all the pictures are mine besides the second and third picture. The palestine's picture and the quotes are from my bae, Google)