PMR Result.
Thursday, December 19, 2013
Assalamualaikum earthlings and to fellow Malaysians ❤︎
How are you today? Fine? Having a bad day? Don't worry. Lay down and think about happy moments

So today is the 19th of December. Why I'm mentioning this date? Well, because today is the day that I got my PMR result. What is PMR? It stands for Penilaian Menengah Rendah or Lower Secondary Assesment. Yup, today is the day! Today is the day that my hearts thumping louder than ever.

The results were released at 11 o'clock in the morning. The feelings? Wanting to jump off the cliff, for sure. But maybe I could canceled that. I arrived at 10 o'clock (which actually the result should be released at 10 a.m. but no) and spotted Mardiyana (my classmate) just got back from the bookshop. I asked her about my debt to the bookshop and she's kindly accompanying me to the bookshop to pay my debt. 2 months not seeing each other feels different for a sudden. But, oh well.

We walked together and were waiting for other classmates to come. Then, we saw Copi walked with her brother. Omg, she's getting smaller. She did told me that she was losing some weight. I was like, you are freaking small and you want to lose weight some more!?!? But if she's feeling healthy than that's okay.

Just imagine, we were surrounded by the nervous atmosphere. Butterflies were fulling my stomach.


yes.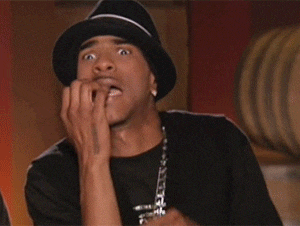 & this.
Then, we saw Riski. She came to us with the nervous face, her style of nervous face of course. She said to me that she couldn't get 8A's. BUT, she's wrong. You never know what fate lead us? Then we walked from the DDO Square to the toilet back and forth. Suddenly, Namira said to us that the result was released. OMGOMGOMGOMGOMGOMG, I was like. Oh god. Then, Copi got a text that wrote she's got 8A's. We quickly congratulated her and I quickly checked the result via text using Copi phone. But waiting for the text was like waiting for my laptop to grow ears.....
Then, suddenly Ieja called all of us that we can enter the library to take the result. I was like. Can't explain with words.
Me, Copi, Mar, Riski and Peya entered the library together and we lined up together to take the result. Slow and steady. When I arrived at the slip table, the clerk quickly congratulated me. Confused. He said that my mom already know the result and he said that I got straight A's. No, I wouldn't believe it until I get the slip in my hands. But,dreams do come true. (But not last night dream. That dream was horrible!) Finally, I have the grades in my hands and my friends did too.
So happy to know that many of my friends get straight A's. We also increase the ranking which make me happy. Thank you to all the people that congratulated us! :) Never feeling this happy. Well, SPM is waiting for us next two years. Believe in yourself and always remember that god IS always with us. No matter what happens :)
Thank you to ALL my teachers, friends, classmates, mom and dad and my whole family. Lastly, thank You the most to God for making this happen. Proud of 98's.
Wish I can send this to ALL of you
Now, I'll be packing my stuff to go back to the hostel. Don't know why our year we got to go early a week than usual -,- KIKS will welcome us, with pleasure...
The reason I wrote this post is to share with you my experience and to calm down any people when the time of the results are release. Remember, believe in yourself! ..& suicide is not the best answer.. ALWAYS not the best answer!
For my cousin, Nana. I know you did your best on the exam and now it's your turn! InshaAllah. I'll pray my best for you :)
Recommended Song to Listen : The Scientist by Coldplay (Covered by Tyler Ward, Kina Grannis and Lindsey Stirling)
Quote of the day: